If I ever get an Alienware machine, I suspect it would be their Media Center machine, but the preview images of these new Star Wars machines are quite tempting.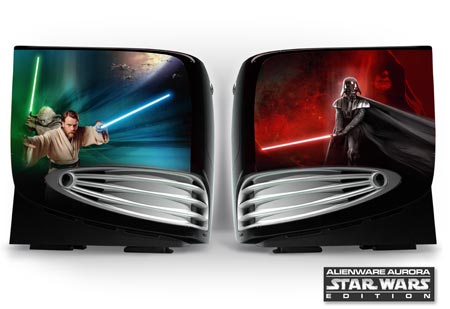 I wish they had a single PC though, not light/dark versions, I love the images they've used for both… it would be cool to have each 'side' represented on the opposite sides of the PC. I'm sure they'll never split the case out on its own, as the whole point of this PC is to get you to pick up their highest-end PC just because you can't resist the themed version. In fact, if you were a true fan you'd probably need to pick up both 🙂
No price yet on these boxes, but I'm sure the old adage of "if you have to ask…" probably applies in this situation.
Update: the price is available now, and it actually seems much more reasonable than I had thought… starts at 1500 with specs that few folks would be really happy with and although it ranges up to $5000 (approx) with all the options, I spec'd one at 2235 that seemed pretty reasonable (put the ram up to 2GB, jumped the processor up a bit from the base, upped the hard drive from 80GB to 250GB… added the 'alien ice' cooling system). Still no plans to buy one, but it doesn't seem quite as far-fetched as I had originally thought.
---
---
237 Words
Published 2005-05-01 15:38 +0000
ff4957c @ 2019-04-01